Event photography is a professional skill honed over time, consequently, you shouldn't trust just anybody to work as your event photographer. Whether you're planning a wedding, hosting a convention, or are having any other special occasion, you need a professional, reliable photographer who can deliver excellent results and has experience in event photography. I have years of experience shooting events of all types. From fairs to festivals, weddings, birthday parties, corporate events, and more. I'm comfortable in all situations, and I will deliver spectacular results – guaranteed. If you don't choose a professional for your event, you may end up with sub-par photos, and your special day may never be recorded the way you want it to be.
Why Hire A Professional Event Photographer?
Still thinking about just having someone with no experience in event photography snap some photos with their iPhone to save money? Here are just a few of the reasons you should hire a professional photographer.
The Right Equipment – I have studio lighting, multiple cameras, backup batteries to spare, and all of the other equipment required to take fantastic photos at any event. I spare no expense when investing in my equipment – and my results are proof of this!
An Eye for Detail – Professional photographers do more than just document your event. They have a keen eye for detail, allowing them to capture special moments that an amateur may miss.
Professionalism – I am a dedicated professional, and I will work tirelessly to capture everything about your special event. After all, if even one special "moment" is missed it will be hard capture the feeling of the event in it's entirety.
Flexible Event Packages Available
I offer customizable, flexible photography packages to all of my clients. You can hire me for a full day or half-day of shooting, or even by the hour, if you don't need a full day of photography. In addition, my event photography packages include post-processing and other photo processing services. With my experience editing photos, you can trust me to remove imperfections, balance light and tone, and make everyone at your event look their best. From wedding and bridal showers, to live concerts, festivals and so much more – I have experience doing it all. No event is too big or too small. I would love to hear from you, and learn more about your event photography needs.
Need Video Or A Second Shooter? I've Got You Covered
I have a network of connections in the world of event photography and videography. If you need to hire a professional videographer, or you require a second (or third) shooter to ensure that nothing is missed at your special event, I can help.
Inquire with me today to learn more about hiring videographers and other photographers. We will work together to get the right services for your particular needs.
So don't wait. Contact me now and learn more about my rates and availability for your next event.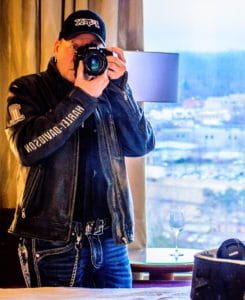 Johnny Yen
Rebel Miles Photography
231.300.1010
jy@rebelmilesphotography.com
"Just Being Yourself Is A Successful Rebellion…"
---