I enjoy incredible pet photography. Nothing's better than bringing out the natural personality of a cat, dog, or any other pet – and capturing it on film forever. Our pets are precious. Unfortunately, they are only with us for a short time, but we want to remember them forever.
If you have a precious pet, I would love the chance to capture their unique personality – and give you photos that will last for years and decades to come. Wondering what the keys are to a great pet photograph? Here are the secrets to my approach.
1. Keep Them Comfortable In Their Environment
This is the #1 most important thing when it comes to incredible pet photography – and this is the reason that I prefer to shoot pets in parks, their backyards, or in their own homes. If you bring a pet into a photo studio, or to an unfamiliar location, they will become nervous. That will, invariably, show through in the photos.
I strongly recommend having your pet portraits done in your own home, or somewhere familiar to both you and your pet. This will ensure that their personality shines through in their photos – instead of discomfort or confusion.
2. Don't Handle Them Too Much
I believe in a "hands-off" approach to shooting pet photos. I let the owners handle their own pets. If you really want to pose your cat or dog in a specific way, it's up to you to do so – and I don't recommend trying to handle them for more than a few minutes. They'll get agitated and uncooperative.
Also, most pets don't respond well to strangers, so I prefer to keep my distance. This has the added benefit of making your pets less nervous.
3. Get Their Attention Right Before The Shot
It's easy to get a human subject to look right into the camera for a portrait. You can just ask them to do so, but this isn't the case with a pet.
I use a number of different techniques to get the attention of pets right before I take the shot. Usually, a loud noise or a whistle is enough to do so – and once your pets are looking right at the camera, I take as many shots as I can on a short exposure, giving you plenty of great pictures.
Interested In A Pet Photoshoot? Get In Touch.
I love meeting new people – and their pets! So if you're interested in incredible pet photography in Michigan, please contact me. I'd like to be able to help you preserve future memories about your pet.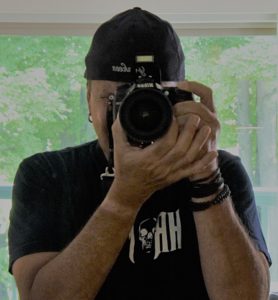 Johnny Y
Rebel Miles Photography
231-300.1010
jy@rebelmilesphotography.com
"Just Being Yourself Is A Successful Rebellion…"
---