Marketing photography can be challenging, particularly when you are just starting out. I wish I could tell you that there is an "easy" way, however…. I can't. Throwing money at Facebook, Twitter, Instagram, etc. to run ads typically does not provide a very good return on your investment. Thankfully, there are a multitude of advertising opportunities for Marketing Photography that are either free or damn close. I've listed a few below that I have used relatively successfully.
CHAMBER OF COMMERCE
Yeah, I know this one isn't necessarily "cheap" especially if you live in a big city. If you live in a small town, this one is a good bet and worth the price. Utilizing the Chamber of Commerce provides you a means by which you can meet many local business owners. Participating in meetings, events, etc. will get your face "out there" and if you follow up with a business card and some persistence you may get a job or twelve.

VOLUNTEERING YOUR SERVICES
Although this doesn't necessarily turn any profits short term it could end up paying off in the near future and is a good bet in Marketing Photography. Volunteering to take free photos at animal shelter as an example will give you an opportunity to sharpen your skills on often uncooperative animals and perhaps get some return business from the people that are buying their pets at that time.
EVENTS
Attending random local events and offering to take images often worked for me in the early stages. A car show, as an example, can help you get to know an entirely different potential client base. Taking a few free images of a person's prize show car is not a bad way to open the door to future business. It may also pay off in the very short term if you up sell the vehicle owner additional images on the spot, at the show.
STREET PHOTOGRAPHY
I enjoy meeting people and talking to complete strangers, with or without a camera in my hand. Walking the streets on a bustling city street during the holiday season can net some business. People often see my camera equipment and approach me to take some images of them instead of the other way around. Walking the street and politely and professionally approaching people offering them free images is usually hard for the people to refuse. Make sure to keep a pocket full of cards with you and hand them out to everyone you took a picture of that day. More often than not the people will contact me looking for the "complimentary" picture I took of them and I will oblige. Providing pricing for all of your services when you send them the image. I've had decent luck with this approach.
In the end, Marketing Photography is probably the single thing that prevent people from succeeding. It takes ingenuity and resourcefulness and is not always easy. Having someone tell you "No Thanks" to your face can be uncomfortable, IF you let it get to you. Dont… There are many other people and opportunities available to market your work.
Good Luck!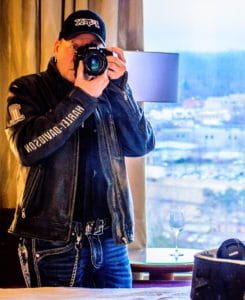 Johnny Yen
Rebel Miles Photography
231.300.1010
jy@rebelmilesphotography.com
"Just Being Yourself Is A Successful Rebellion…"
---