Northern Michigan Photographers are a rare breed indeed. We live in an area of incredible natural beauty which is appreciated by all who venture to the area. In fact, that is the number one reason travel to Northern Michigan to appreciate the crystal blue lake waters, clean air, abundant wildlife and laid back atmosphere a welcome break to city life.
The seasons are definitive and real, not wishy washy like some areas of the country where it's 55 in the winter with no snow and 90 in the summer with no rain. Those aren't seasons is the truest sense of the term no question about that. Northern Michigan Photographers, on the other hand, must learn to adapt to ever changing and at times extreme weather conditions.
Last week, as an example, I did a shoot in the middle of January with an ambient air temperature of 5 degrees below zero with a couple feet of snow on the ground. Two days later I did a shoot and the ambient air temperature was 45 degrees, almost all of the snow was gone and both shoots were in the same general location. During the winter on every shoot I travel to I've learned to take warm clothes for extreme cold, light clothes for unseasonable warmth, a shovel, bucket of sand and some energy bars and water in the event myself or someone else ends up needing one or the other in a snow event.
That's where the "rare breed" moniker comes to mind as beyond the necessary items noted above, Northern Michigan Photographers need to be thinking of how extreme temperatures could impact their shoot, or more importantly, their equipment. The impact on the subjects being shot can't be overlooked either as if there are pets or models involved, either can be adversely effected. Even something as simple as shooting real estate can be impacted as the final images can take on an entirely different feel if the temp is extremely cold or extremely warm.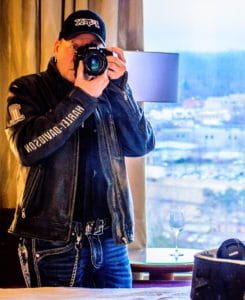 Johnny Yen
Rebel Miles Photography
231.300.1010
jy@rebelmilesphotography.com
"Just Being Yourself Is A Successful Rebellion…"
---