Fashion photography and becoming a model in this glamorous industry is the dream of many a beautiful young woman and more than one great looking guy as well. But because the allure of making it to the top level in the modeling world is so alluring, there is a lot of competition for those few top slots that produce the world's "super models".
If you are just starting out, the challenge is how to pick the perfect photographer who can do a top-notch portfolio for you. You want a portfolio that cuts through the pack and gets your portfolio noticed by those elite agencies who can get you the big jobs modeling for fashion magazines and commercials. So what are the qualifications for such a photographer?
Your first consideration is location. If you live in Dallas, Denver, Los Angeles, Chicago of one of the other major metropolitan centers, there are elite photographers who already have the contacts they need to get your portfolio to the key decision makers in the business. If you don't live in these cities, you have two ways to resolve the problem your "remote" location might cause.
The first one is to learn the ropes of the fashion industry so you know who the key players are. Then you can interview the photographers you do know to see if they are aware of the networking they need to do to get your portfolio noticed. This can be a tall order if you don't have insider information but networking with models you may know who have "made it" to at ;least some success is a good start.
If there are no photographers in your area that understand the fashion industry to your satisfaction, you may have to travel to a major city to find the right photographer. But above all, don't compromise your values on this. Just being well networked is not enough for a photographer to be qualified to handle your portfolio. There are some other critical tests for you to apply.
. The agency has to be legitimate. They don't ask you to pay for the portfolio and they don't advertise to get models. A good agency is making plenty of money selling their work and they can find good models without stooping to such measures.
. The photographer has to be well equipped and know his equipment. Interview him or her and discuss the effects you want to see achieved for your portfolio. They should be able to discuss with ease how they will achieve that effect and show you examples of how they have done so in the past.
. The photographer should have a good eye for color, lighting, framing and staging your shots. Look at other portfolios of theirs so you can see that they know how to get what you want from a shoot. Also, get references from other models who have worked with them. You want to be confidence that once the shoot gets underway, you are in top-notch hands.
Above all, you have to "click" with your photographer. Having your picture taken is a very personal event. These photo shoots may get long and difficult. Perfection is hard work. Listen to how the photographer talks about his work. The most important thing to come from these shots is personality. That is what is going to break you through the pack and get you noticed. If your photographer can get that from you, they can take you a long way toward your goals of success in the modeling world.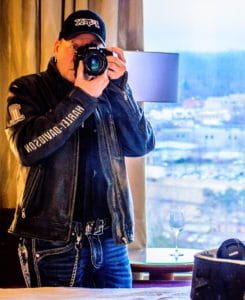 Johnny Yen
Rebel Miles Photography
800-413-1329
jy@rebelmilesphotography.com
"Just Being Yourself Is A Successful Rebellion…"
---