Living and breathing Northern Michigan Photography is what I do. Whether it is the over abundance of nature photography opportunities or an equally abundant supply of street, architecture and real life shots, either way there is plenty to experiment with at any give time. Northern Michigan Photography is an adventure every time I head out to do a shoot. It's rare when this area doesn't present me with a photo opportunity as I drive in the Winter or ride in the Summer.
Nature shoots are the obvious option when looking for subjects, however, street photography should not be overlooked. This area is a magnet for tourists and the population skyrockets in many towns up and down the Lake Michigan coast every Summer and in some areas the Winter as well. Tourists provide unique opportunities as no two are dressed alike and the areas they visit are equally as popular with many other tourists looking for the same adventures. And while shop owners look at tourists as their bread and butter, photographers recognize the uniqueness of having such a diverse temporary population in a relatively confined area. Northern Michigan Photography kicks into high gear as the crowds grow and I take full advantage on the streets.
Street fairs are always a good place to capture people enjoying the culture, food and excitement. You can't ask for a better subject as most people are happy and enjoying the moment which shows through onto the images. Outdoor concerts are great places to capture activity as well, especially when the sun starts to move toward the horizon. Concert lights, sunsets and participants always make for a good shoot.
Northern Michigan Photography is alive and well and is always worth a few clicks. I shoot just about any subject and am always looking for new opportunities to travel and meet some really cool people. Contact me today if you have any questions or ideas for shoot.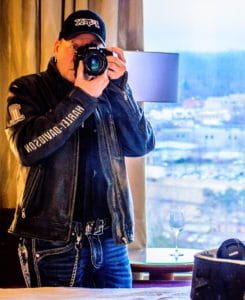 Johnny Yen
Rebel Miles Photography
231.300.1010
jy@rebelmilesphotography.com
"Just Being Yourself Is A Successful Rebellion…"
---