Working as one of Traverse City Photographers its easy to understand why I love living in Northern Michigan – especially when I get to spend time in the Upper Peninsula. In the summer, the weather in the UP is balmy and gorgeous, and in the winter, it turns into a frozen destination that feels like my own personal playground.
As many Traverse City photographers know, there's a simply incredible variety of scenic vistas, wildlife, trees, and man-made structures to take pictures of in this area. My biggest problem when I traverse Traverse City or the UP is finding the time to visit all of the scenic destinations that I love!
One of my favorite images that I shot on a recent trip to the Upper Peninsula is this shot of a bald eagle, with the Mackinac Bridge in the background. Perched atop an icy snowpile, the white of the eagle's head stands out against the pure, deep black of its feathers – providing a unique focal point to the picture.
Snow and ice drift out of the foreground towards the viewer, putting us in a mood of winter chill and contemplation. And, in the background, omnipresent as always, is the Mackinac Bridge. I've discussed my love of juxtaposing the natural and the artificial before – and this is just another example of the power of doing so.
The Mackinac Bridge is just so… manmade. Seeing it loom out of the fog, almost as if it's reaching towards the eagle – it really makes me think about our impact on nature, and how man and animals coexist. I'm an avid motorcyclist myself, so I always love riding even further North in Michigan to spend time near Lake Superior, it's always an incredible ride and the lake never stops being a good photo subject.
But Traverse City photographers know that this area also has a lot to offer as well.One of my favorite recent photos that I took in Traverse City is a photo of a Harley-Davidson that I found tucked away in an alley. This detail shot of the same bike, rendered in black and white, focuses in on the bike with a very tight shot.
By shooting from an uncommon angle, this photo forces the viewer to truly take the time to think about what they're looking at – and many folks have told me it took them several seconds to realize this was a picture of a motorcycle!
I love that. I love when I can take something that's everyday, and turn it into something extraordinary. I guess you could say that's the goal of my entire approach to photography, If I can make just one person think about the world differently, or help them gain a new perspective, I've succeeded as an artist, and as a photographer.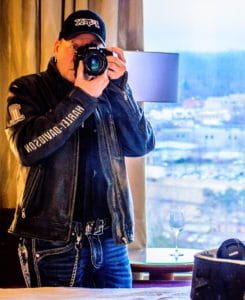 Johnny Yen
Rebel Miles Photography
800-413-1329
jy@rebelmilesphotography.com
"Just Being Yourself Is A Successful Rebellion…"
---